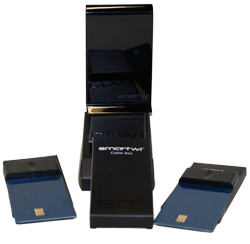 SmartWi International has launched a successor to the original, revolutionary wireless SmartWi Multi Room Solution.
The New SmartWi II Master Box has been redesigned with a stylish piano black exterior and a card slot that completely conceals the viewing card when inserted.
The SmartWi II Cardsplitter is a wireless card splitting system allowing the user to share one subscription smartcard with up to five decoders – each receiving programs independently.
Working with both terrestrial-, satellite- and cable receivers and with Irdeto, Viaccess, Seca, Cryptoworks and Conax encryption systems means the SmartWi II Cardsplitter is a truly versatile device.
The SmartWi II kit comes with two client cards as standard. Extra cards optional for solutions with more than two receivers.