Wireless SmartWi
is a Wireless Multi Room Solution for smartcard using the ISO 7816 -1 -2 -3 standard.
With this Wireless Multi Room Solution you can share one original smart card between all your receivers.
The wireless master box will connect to the digital receivers by the wireless slave which will be inserted in the receiver's cam (embedded cam)
It will then work as the original card was inserted direct in your receiver.
This solution is useful when you have more than 1 receiver in your home and will save you for paying additional extra monthly fee for extra cards.
SmartWi Multi Room Solution come standard with 1 Wireless SmartWi master box, 2 Wireless SmartWi client card and a power adaptor for SmartWi master as a set.
Watch this video about the SmartWi II – in Dutch language:

---
SmartWi Multi Room Solution Master Box
Size: 90 x 56 x 23 mm
The Wireless SmartWi Master Box are using a fast microprossesor to control both the card reader and the wireless part.
Follow ISO 7816 standard
Host device auto detect clock speed.
USB2 connection for firmware update & supply power
Build in antenna for wireless communication with slave card.
Wireless range. Min.15 meter Master <> client unit (indoor range).
Auto re-start after power failure.
Stand alone operation, manage the smart card itself.
Very fast master <-> slave communication (>30 Kbytes/s)
LED indicator for operation
---
SmartWi Multi Room Solution Client Card
Size: 109 x 54 x 0,6 mm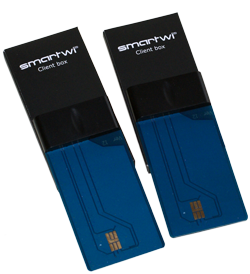 The wireless SmartWi Client Card use a small microprocessor to handle both communication with the receiver and the wireless part.
Follow ISO 7816 standard
Auto detect clock speed from the receiver
Firmware update through SmartWi master box
Build in antenna for wireless communication with master box
Wireless range min. 15 meter from Master unit (indoor range)
LED indicator for operation
Powered from receiver's cam / card reader